Tag: pics so it happened
by Luprand on Jul.01, 2010, under COTM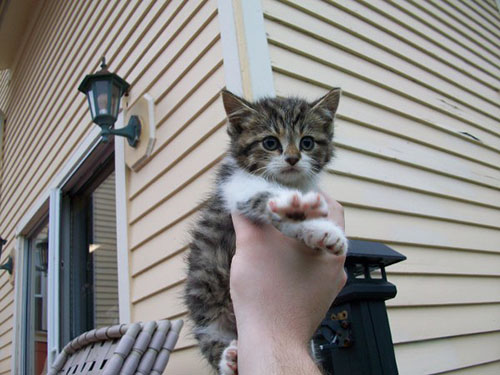 "I can has grammar lessons?"
This kitten's name is Lorenzo. A couple of weeks ago, my dad and I found Lorenzo and his brother Max by the side of State Route 608 in Ohio. No shelter, no food—just two little kittens huddling next to each other and mewling in fear every time a car went zooming past. When we pulled over and tried to gather them up, they were understandably terrified, and it took Dad and me about five minutes of very careful pursuit in the ditch between a country highway and an electric fence to nab them both. Once we got them gathered up, we asked the local neighbors if the kittens belonged to any of them. No luck.
So Dad and I drove home with two frightened, hungry kittens wrapped up in a blanket from the back of my car. They were very light, as though they hadn't eaten for some time. Lorenzo stayed huddled into the blanket, shivering, while Max kept trying to get out and explore the car's interior. He mewed at me a lot.
We got the kittens home and almost immediately ran into more problems. Dad's allergic to cats, you see, so we knew we couldn't keep them. For the time being, we let the two of them settle on the back deck with a can of tuna and a little dish of cream. My suspicions were confirmed when I saw they way they fairly attacked their food. The kittens spent the night in a cardboard box on the deck, curled up in that same blanket.
The next day, I took them to the local Humane Society shelter, Rescue Village. The Village already had a lot of cats to take care of, but the workers were still willing to take care of Lorenzo and Max until someone could adopt them and give them a better life than the one they'd known.
So this month's charity is your local Humane Society or other animal shelter (like the Puffy Paws Kitty Haven). You'll probably have to do a quick online search to find the nearest one, but donations will help abused, neglected, or abandoned animals find new homes where they can have better lives.
And because I know you're all curious, here's Max: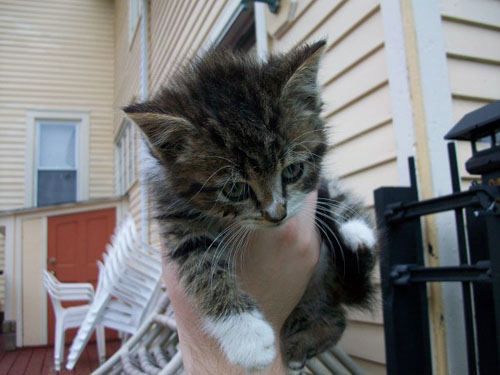 "You pulled me away from the cream for this?"
2 Comments
:COTM, humane society, kittens, pics so it happened
more...