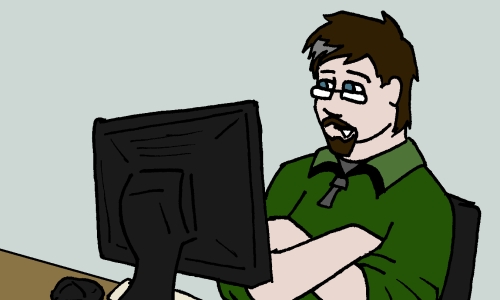 I totally sit back and read comics in an exaggerated posture of relaxation. You should too.
Comics I currently read
This category is probably self-explanatory.
Adventurers! – If it doesn't make sense, and it's been in a JRPG, this comic probably lampooned it somewhere. Now a part 2!
AWKWARD ZOMBIE – See the review for more detail.
Widdershins – A steampunk/fantasy comic by the cartoonist who brought us Darken.
XKCD – I think there's some Internet law that requires me to read this.
Comics I picked up
I picked them up to review them and couldn't put them back down again.
Three Panel Soul – review
Comics in Limbo
These ones just fizzled out for whatever reason. They're still enjoyable, though, and if they ever pick up again, I'll be waiting.
Daisy Owl – review
Golden – A fairy-tale parody. No idea if it really ended.
Manly Guys Doing Manly Things – An employment agency for hyper-masculine video game heroes.
Six by Nine College – A werewolf, a vampire, the devil, and various others attending the University of Granite Heights.
The Non-Adventures of Wonderella – The world's most lackadaisical superheroine.
Completed Comics
These ones reached the end of their runs, but I still enjoy going back and re-reading the archives.
Brawl in the Family – An adorably off-the-wall look at some Nintendo favorites. Mostly Kirby, though.
Darken – Adventures in a fantasy world where pretty much everyone's evil or crooked. Especially the protagonists.
Elf Only Inn – Online roleplaying at its hilarious worst.
Foob's Paradise – A rewrite and extension of the ending of For Better or For Worse.
Squid Row – Read the review. Underwent title and site change to Randy and Ryan (also completed).