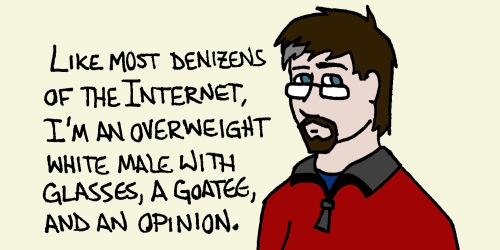 It's way too true.
So, who's this Luprand guy?
Just another face on the Internet, for the most part. I hail originally from Ohio, in the Amish country just east of Cleveland. (No, I was never Amish myself.) I had a rather arts-heavy upbringing, surrounded by classical music and no shortage of books to read, and somewhere along the lines I discovered that I enjoy drawing, to the point of making it almost a nervous habit. By sixth grade or so, I was already drawing a little comic I called Swan Dive; it was very obviously the product of a sixth-grade imagination, but it was a way for me to express my offshoot of the family sense of humor.
More than a decade and two small webcomics later, I've graduated from Brigham Young University with a B.A. in English and a minor in editing. While the writing and editing jobs are difficult to find, I'm at least keeping busy with efforts like this review site here.
The rest of the time, I can often be found sketching out one thing or another. Or, for that matter, I might be playing or arranging music, writing up yet another story idea for who knows what, learning another new recipe to mangle for my own, designing and putting together costumes for medieval reenactments, or just reading more books and articles to keep me well-stocked with trivia and quotes. Favorites include Isaac Asimov, Larry Niven, Terry Pratchett, C. S. Lewis, and Frances Hodgson Burnett.
So, what's this blog about?
Well, I used to do webcomics on a regular basis. Occasionally I get an itch to try doing one again, but so far, no awesome plot ideas have come to mind. Therefore, given my peculiar qualifications, I decided that instead I'd read other people's comics and publicly share my opinions on them, with a heaping side of tangential commentary. I have a flair for backseat driving, so it's really quite a good deal for me.
So, how do I contact you?
For starters, you can check out my gallery of assorted scribbles. I'm told there's a note system there. Failing that, there's also my Facebook page, or (if you're getting desperate) my e-mail. I'm generally pretty good about replying promptly and politely.